Full-Service Dental Care for Your Family
At Compass Dental Group, our No. 1 goal is to provide you with comprehensive, affordable dental care. Whatever type of dental health services you need, our team is here to help. Using a comprehensive approach, we help you uncover and treat the root issues of any symptoms to ensure you live a pain-free life with a healthy smile.
Dental health starts with recurring dental cleanings.
Our oral hygiene services keep teeth and gums healthy.
Maintaining a high standard of oral hygiene is the best way to keep your teeth and gums healthy. During professional dental cleaning appointments, our hygienists remove plaque and tartar using instruments that allow cleanings to be completed efficiently in minimal time. Polishing leaves the teeth smooth and helps minimize future plaque buildup.
Our General Dental Services at Compass Dental Group Help You
DIAGNOSE DENTAL CONCERNS
PREVENT TOOTH DECAY
KEEP YOUR SMILE HEALTHY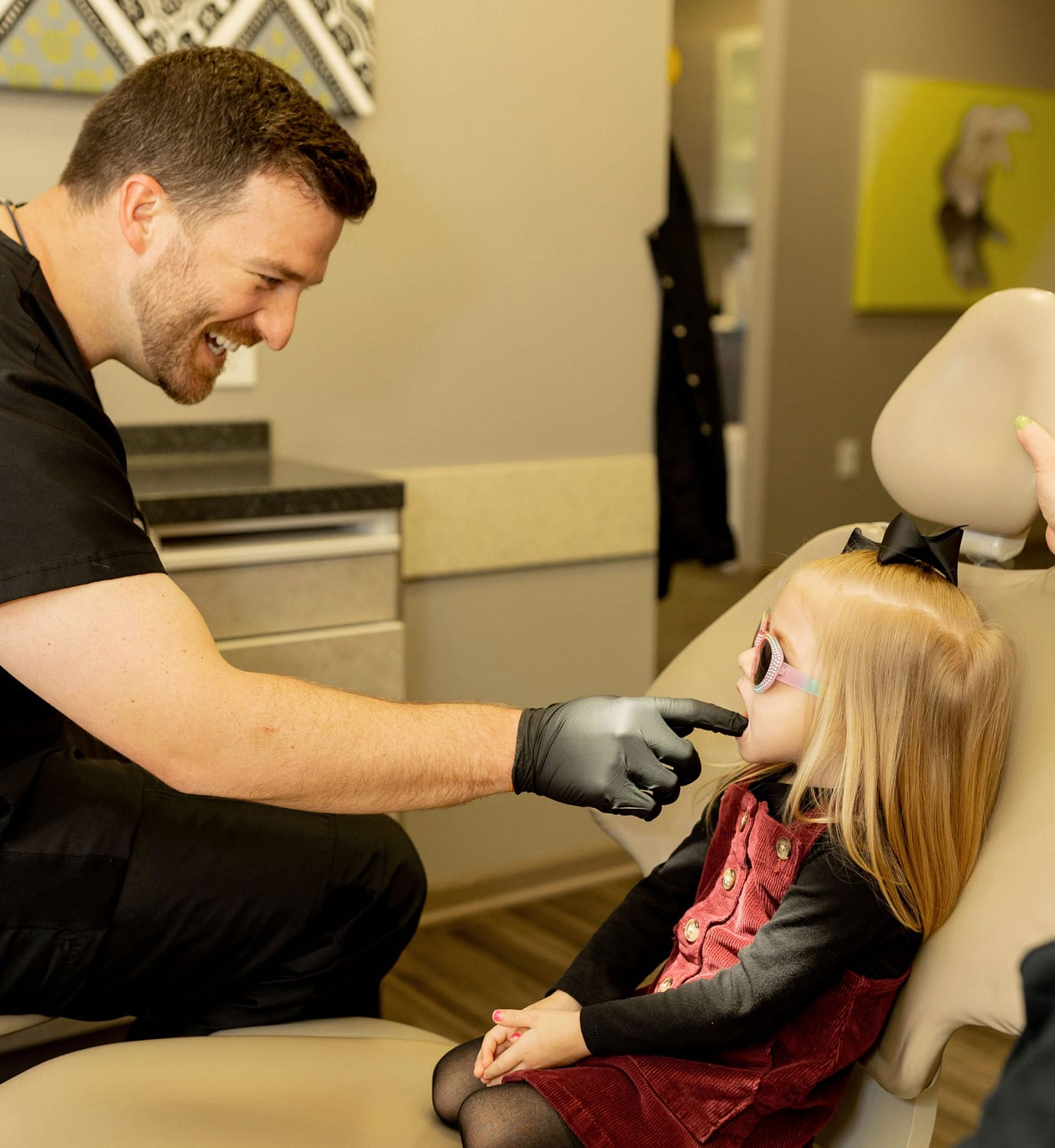 Cavities damage your teeth.
Dental sealants are a pain-free solution.
Dental sealants protect your teeth's chewing surfaces (usually your back molars) from cavity-causing acids and bacteria. These thin plastic coatings prevent decay by creating a smooth surface across areas that easily accumulate food and plaque, such as the pits and fissures of your teeth.
Dental restorations don't have to be visible.
Tooth-colored fillings create a natural smile.
Looking and feeling good is an important factor in gaining a high level of self-confidence. Unsightly or obvious fillings can make patients feel self-conscious about the appearance of their smiles. At Compass Dental Group, we offer tooth-colored fillings that restore teeth in an attractive, natural-looking way.
Sensitive and infected teeth hurt.
A root canal can take the pain away.
A root canal treatment removes infected, injured, or dead pulp from the tooth. This type of damage is often due to a large cavity or fracture. By undergoing a safe and comfortable root canal treatment, you can preserve your natural tooth and regain your ability to chew, speak, and swallow comfortably. At Compass Dental Group, we use Waterlase MD Turbo laser dental technology to accomplish root canals with minimal discomfort and fast healing.
Damaged teeth need support.
Dental crowns deliver natural-looking protection.
Dental crowns are custom-made dental prostheses used to restore damaged teeth. At Compass Dental Group, we offer CEREC same-day crowns, meaning we can design, create, and permanently cement your new crown in a single visit—no impressions or temporary crowns required! If you have a tooth that has been damaged by trauma or decay, our porcelain crowns can help restore your smile.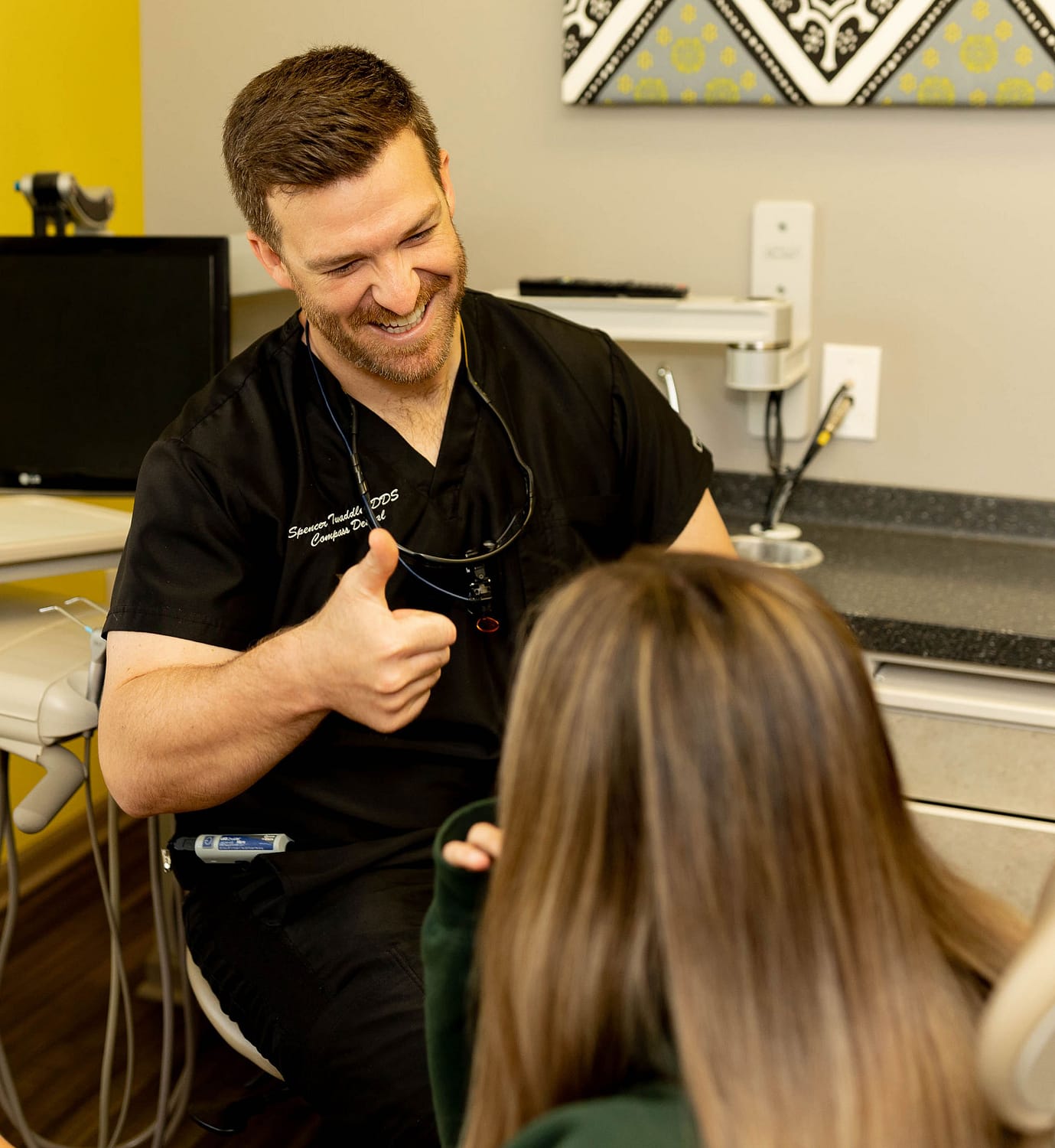 A tooth needs extraction.
We provide painless removal with your comfort in mind.
Permanent teeth should last a lifetime, but in some cases, it is necessary to remove them. Perhaps you have a crowded mouth and need a tooth removed to accommodate braces. Maybe a tooth is decayed or damaged beyond repair. Depending on the location, size, and shape of the tooth, we can do a simple or surgical extraction to correct the issue.
Healthy gums are important.
Periodontal therapy gets them that way.
With periodontal disease, gums typically swell and become tender, pulling away from the teeth. This movement creates periodontal pockets around the teeth, which are ideal breeding grounds for bacteria. Treatment depends on the severity of your disease and focuses on reducing the level of bacterial infection in your gums, restoring them to health and giving you a reason to smile again.
Waking up with a sore mouth?
Our bruxism therapies give you a good night's rest.
Do you wake up with sore jaw muscles and hurting teeth? At Compass Dental Group, our bruxism (teeth grinding) treatments include nightguards that protect your enamel and Botox injections into the chewing muscles, therefore slowing down grinding and clenching.
Wisdom teeth causing you pain?
Comfortable, pain-free extractions will make you smile again.
Wisdom teeth do not always emerge properly aligned with your other molars. They are usually impacted, meaning they are unable to erupt through your gumline due to misalignment or a lack of space. By extracting impacted wisdom teeth, we can eliminate discomfort and prevent future dental problems.
At Compass Dental Group, we believe that quality dental care should be available to everyone! We accept most major dental insurance plans, and for those who have minimal coverage or no insurance at all, we can work with CareCredit to offer flexible payment plans. Call today to learn more!
Guiding You Toward Dental Health