Advanced Orthodontic Treatments for Beautiful Smiles
Custom Care for Your Entire Family
At Compass Dental Group, we strive to provide outstanding orthodontic care in a comfortable and personalized manner. By combining sound science, current dental techniques, and the latest technology, we can develop optimal treatment plans for everyone in your family.
Patients of all ages and needs trust us to provide the best orthodontic treatments. By listening attentively to their concerns and using the best diagnostic tools at our disposal, we put together treatment plans that create the most beautiful smiles.
Interceptive Orthodontic Care To Correct Issues Early
Children should receive their first orthodontic screening by the age of 7. When we examine a child early on, we can identify potential problems and correct them before they become serious. It is especially important
if your child exhibits any of the following symptoms:
Oral habits like thumb-sucking
Severe crowding
Mouth breathing
Protruding teeth
Crossbite
Jaw imbalance
Many of these conditions can be treated with palatal expanders, which are dental devices that slowly widen the upper jaw and expand the roof of the mouth. They're most effective when used before puberty, which is one of the reasons why we recommend early orthodontic screening.
Orthodontic Treatment at Compass Dental Group Can
CORRECT PROBLEMS BEFORE THEY GET SERIOUS
SHAPE AN ATTRACTIVE SMILE
HELP YOU MAINTAIN GOOD ORAL HYGIENE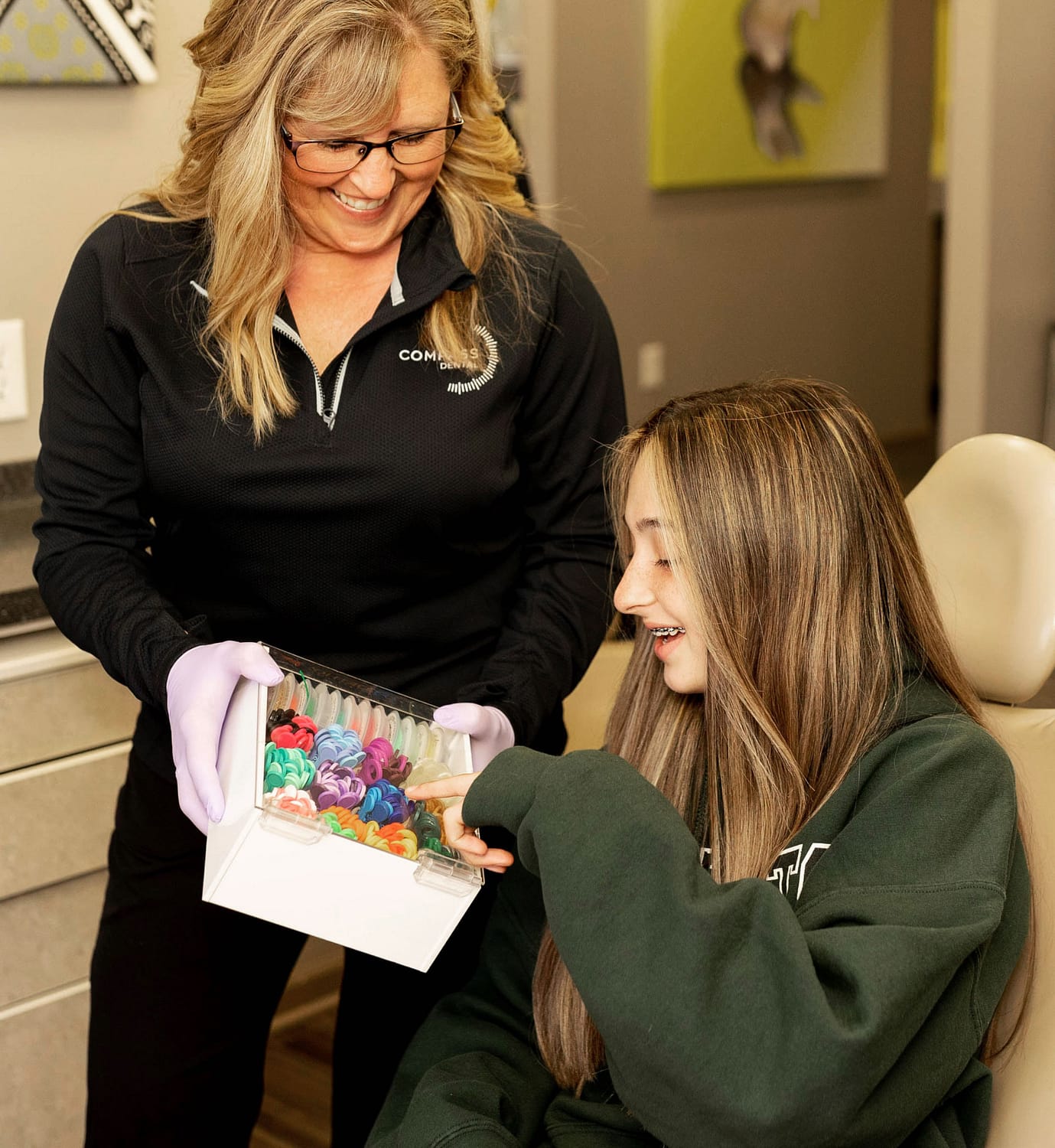 Misaligned teeth can cause multiple dental issues.
Compass Dental Group offers comfortable corrective solutions.
Malocclusion refers to misaligned teeth. You can be born with it, or your teeth can shift and become crowded over time. In either case, malocclusion not only causes cosmetic issues but can also affect your ability to speak and eat.
Orthodontic care can resolve this malocclusion. Depending on your situation, we may recommend braces, clear aligner therapy, or, in the case of a young child, a palatal expander. Besides improving your smile, correcting misalignment through orthodontic treatment allows you to clean and maintain your teeth more easily, helps prevent gum disease, and can even relieve jaw pressure. Early intervention can greatly reduce the overall cost and complexity of orthodontic treatment.
Is it too late to correct dental misalignment in adulthood?
Our orthodontic treatments can correct long-standing dental challenges.
More and more adults are becoming aware of the benefits of orthodontic treatment. Nowadays, it is equally common to see adults and children wearing braces, clear aligners, or other corrective devices. At Compass Dental Group, we believe it is never too late to enjoy a perfect smile, which is why we offer various orthodontic options for adults.
When bite issues go uncorrected in adulthood, they can lead to the following problems:
Premature wear and tear on chewing surfaces
Tooth decay
Gum and bone loss
Headaches and TMD
You are an orthodontic candidate at any age as long as your gum and bone structures are healthy, which is great news for adults who are ready to take the next step toward a perfect smile. Schedule an evaluation today to explore your options.
Orthodontic treatment doesn't have to be visible.
Clear aligner therapy is comfortable and discreet.
Through clear aligner therapy, your dentist can guide your teeth into new positions with a customized set of thermoplastic aligners. This system has revolutionized the way teeth are corrected. Various orthodontic concerns can be treated with clear aligners, and these aligners provide many additional benefits:
They are extremely comfortable and nearly invisible.
They require fewer in-office visits and adjustments.
Flossing and brushing are easier than traditional braces since aligners are removable.
There are no restrictions on what you can eat.
If you are interested in learning more about clear aligner therapy, contact Compass Dental Group to schedule an evaluation.
Braces can improve your dental health.
We have braces available to fit all goals and budgets.
Orthodontic braces are devices used to align and straighten teeth in order to improve a person's bite, thereby enhancing their overall oral health. At Compass Dental Group, we have different options available to suit your budget and aesthetic goals.
Traditional metal braces: Modern metal braces, which are the most common type, are more comfortable than ever before. These braces straighten your teeth using stainless steel brackets and wires.
Self-ligating braces: Self-ligating braces are made of the same materials as traditional braces, but they don't use elastics. This means less friction and fewer follow-up appointments. An archwire guides teeth into position using a specialty clip in place of elastics. Self-ligating braces can be made with metal, ceramic, or clear brackets.
Ceramic braces: Ceramic braces are made of clear materials, so they are less visible than metal braces. Therefore, they are usually worn by older teenagers and adults who have cosmetic concerns. As ceramic braces are more fragile than metal ones, patients must be extra careful. This is why ceramic braces are primarily used on upper front teeth.
At Compass Dental Group, we believe that quality dental care should be available to everyone! We accept most major dental insurance plans, and for those who have minimal coverage or no insurance at all, we can work with CareCredit to offer flexible payment plans. Call today to learn more!
Guiding You Toward Dental Health