Building Confidence One Smile at a Time
At Compass Dental Group, we take pride in changing our patients' lives through dentistry. Our talented and accomplished dentists provide a variety of dental services, from basic fillings to complex oral rehabilitation involving dental implants. By providing a wide range of treatment options and helping you maintain great dental health, we make it easy for you to smile with confidence.
Dr. Vierthaler grew up in Olathe, Kansas, and is the second youngest of six children. After playing basketball in junior college for two years, he graduated from Emporia State University with his chemistry degree in 1997. Upon graduating, he followed in his father's footsteps and enrolled at the UMKC School of Dentistry and graduated in 2002.
Dr. Vierthaler is a general dentist with advanced orthodontic training through the American Orthodontic Society. He treats both phase I and phase II orthodontic cases, as well as provides limited treatment for aesthetics to enhance restorative dentistry.
"I chose orthodontics because it is so rewarding to completely change someone's smile," he says.
Dr. Vierthaler has always been passionate about delivering quality care and making state-of-the-art technology available to his patients. In recent years, he has averaged over 150 hours per year of continuing education to ensure he is delivering the best care possible and staying up to date on new techniques.
His skill and dedication has resulted in special recognition and multiple awards:
He received the Excellence in Geriatric Dentistry Award during his last year of dental school.
In 2009, he was recognized by the Missouri Dental Association, receiving the Outstanding New Dental Leader Award.
In 2010, he was recognized by the UMKC Alumni Association as Young Alum of the Year.
He has served as past president of the Northwest Dental Society and as northwest trustee to the Missouri Dental Association.
In addition to being a member of the American Dental Association, Missouri Dental Association, and Northwest Dental Society, Dr. Vierthaler is a graduate of MDA's Leadership Development Continuum and an Associate Fellow within the World Clinical Laser and Imaging Institute.
Giving back has always been a priority to Dr. Vierthaler. He participates in Missouri's Donated Dental Services program, which benefits low-income Missourians.
In his spare time, Dr. Vierthaler enjoys spending time with his family. He and his wife, Rebecca, have been married since 2003. They have four wonderful children, Samantha, Rylee, Lucas, and Kyle.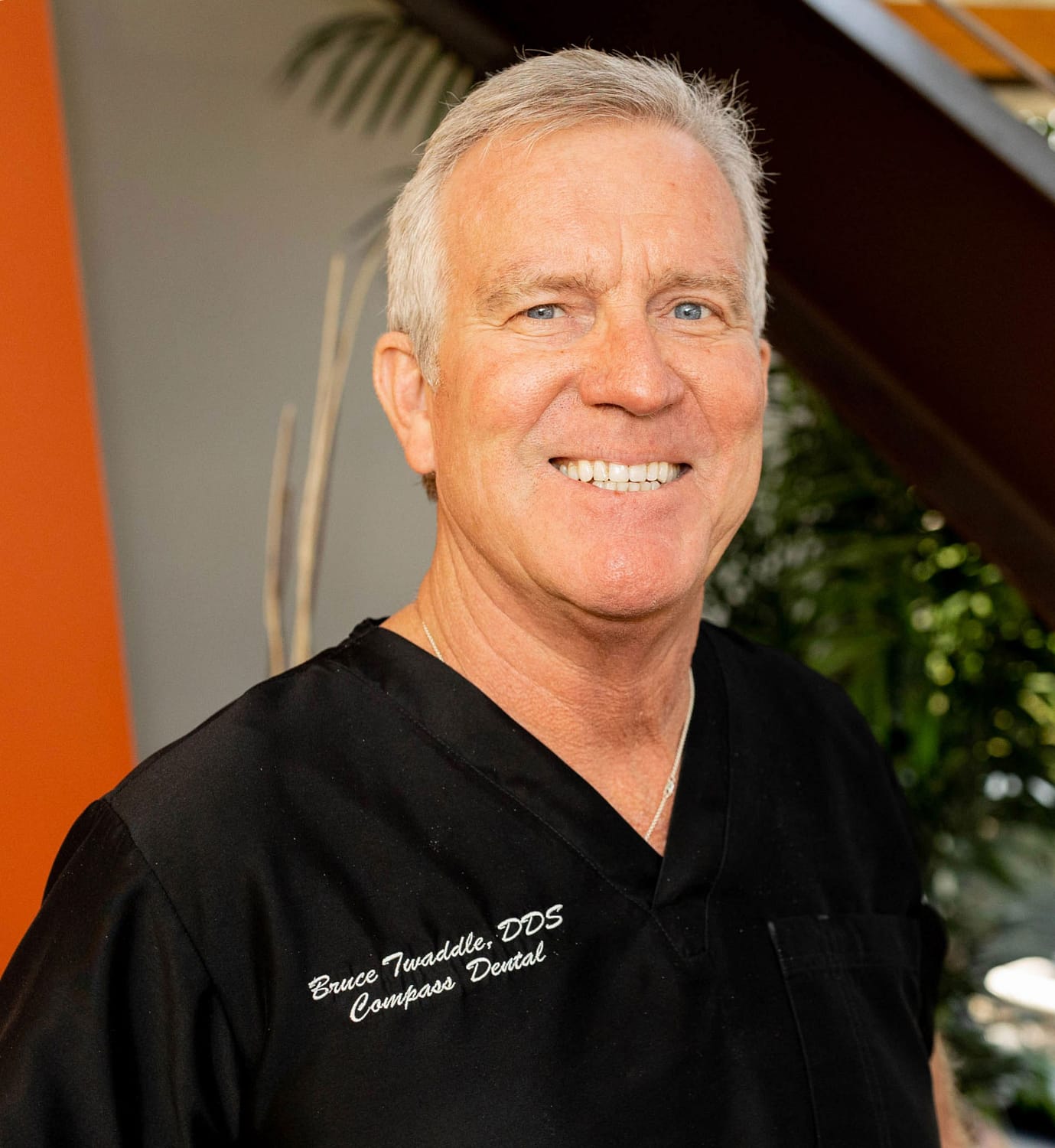 Dr. Bruce Twaddle was born and raised in Maryville, Missouri, attended Horace Mann Laboratory School and graduated from Maryville High School. Throughout his formative years, he was involved in many activities, including athletics and Boy Scouts, where he attained the rank of Eagle Scout.
Dr. Twaddle received his undergraduate education from the University of Missouri-Columbia, where he earned a Bachelor of Science in physical therapy. While at the University of Missouri, he was recruited into QEBH and Omicron Delta Kappa.
Following graduation from dental school in 1983 at the University of Missouri-Kansas City, he returned to Maryville to practice dentistry.
"Dentistry provides a unique niche in health care where a surgical skill set is required that must combine with a certain artistic talent in restoring oral health in both function and aesthetics," he says. "I can think of no other profession where I could have been so happy in going to work every day."
Since 1991 Dr. Twaddle has been involved with the surgical placement of dental implants. When asked why he focuses on implant dentistry, he says, "In the early 1980s, I observed that denture patients suffered so much decreased function in eating and self-esteem, with virtually no solutions or answers to their problems. Dental implants were the solution, and I was fortunate to find educational programs that taught me the skills necessary to meet those challenges."
With over 4,000 surgical placements, he has obtained Diplomate status in the International Congress of Oral Implantology. He has lectured locally and internationally on the topic of dental implants and enjoys sharing his knowledge with others while serving as cochairman of a study club for young dentists in the greater Kansas City area.
Bruce and his wife, Polly, are the proud parents of four great children: Trent, Micah, Teal, and Spencer.
Speaking of whom, it appears that passion for dentistry runs in the family:
Dr. Twaddle's sister has worked with him as a certified dental assistant for 25 years.
His brother, Brad, is an orthodontist in Columbia, Missouri.
Nephew Brian Sutton is a dentist on the Country Club Plaza in Kansas City.
Son Teal graduated from UMKC School of Dentistry in 2015, and another son Spencer graduated in 2019 and now works at Compass Dental Group.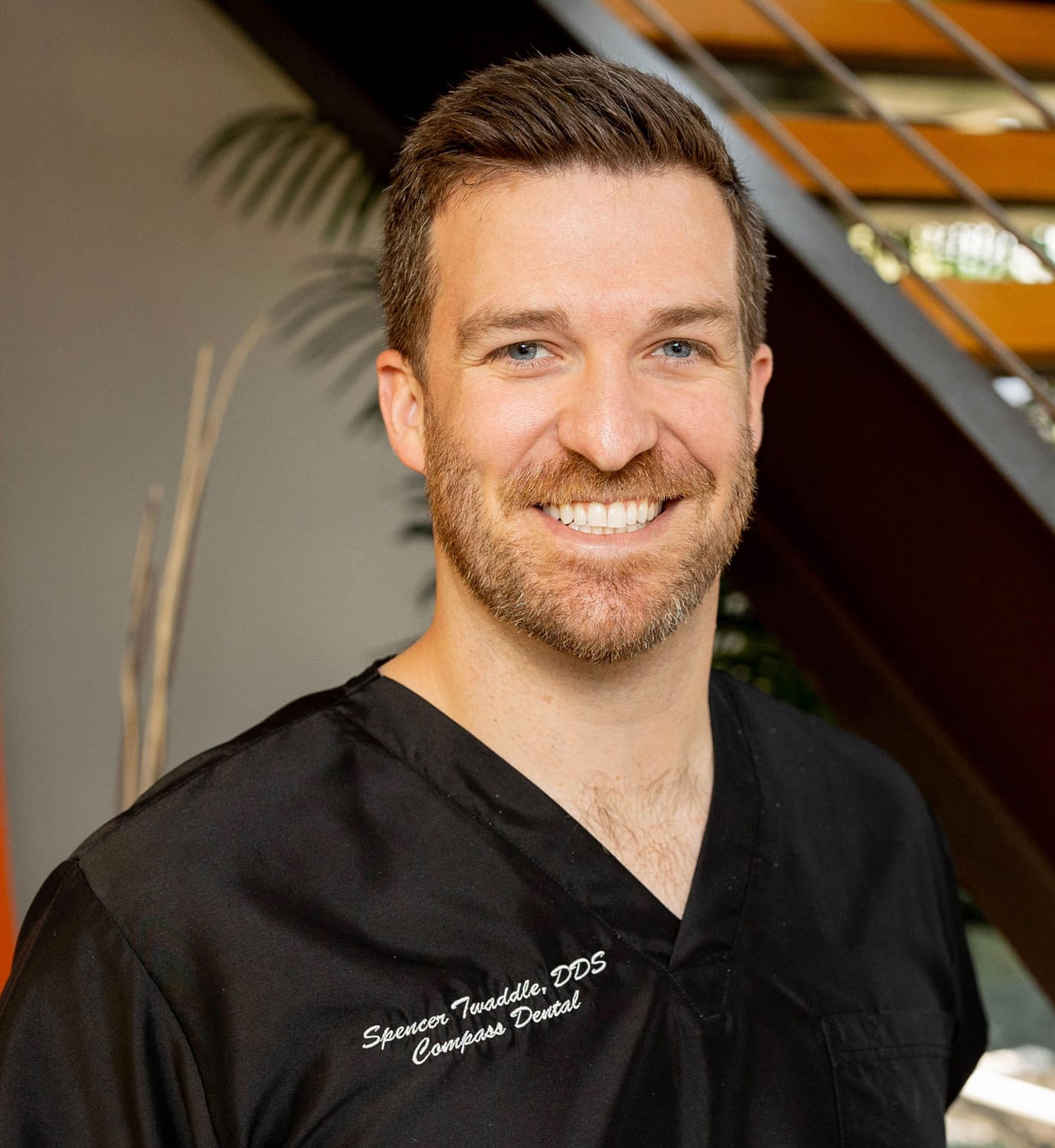 Dr. Spencer Twaddle was born and raised in Maryville, Missouri. "I attribute being the youngest of four siblings to me becoming the laid-back guy I am today," he laughs.
He knew from an early age that he wanted to be a dentist.
"Growing up in a family of dentists led me to see the benefits of the profession," he says. "The work-life balance and the ability to help patients and solve problems on a daily basis made dentistry a perfect career for me."
He graduated from the University of Missouri in 2013 and UMKC in 2015 with degrees in biology and health sciences. He then graduated from UMKC Dental School in 2020. After graduation, Dr. Twaddle joined the team at Compass Dental Group, where he specializes in implant dentistry. He is also a member of the International Congress of Oral Implantologists, Missouri Dental Association, Northwest Dental Association, and American Dental Association.
When not practicing dentistry, Dr. Twaddle loves to go hunting and fishing. He and his wife, Andi, have a wonderful son, Barrett, and enjoy watching Mizzou football and taking long walks in the woods as a family, usually accompanied by their dogs and cat! He is also certified in swift-water rescue and was a white-water raft guide on the Deschutes River in Oregon.
We Deliver Quality Care Through
Making Lives Better Through Dentistry
Find out how our dental services can transform your smile! Request an appointment at Compass Dental Group today!